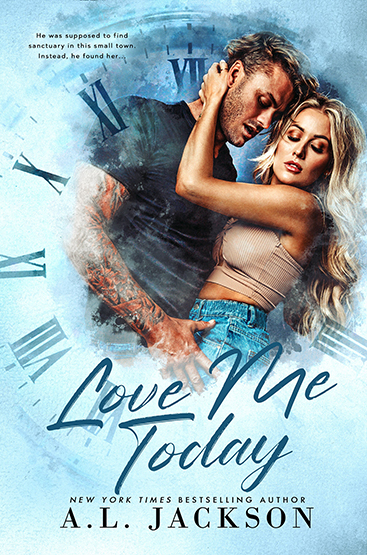 Love Me Today
by A. L. Jackson
Series:
Time River #1
May 29, 2023
Amazon

𝑨 𝒋𝒂𝒅𝒆𝒅 𝒔𝒊𝒏𝒈𝒍𝒆 𝒅𝒂𝒅. 𝑨 𝒘𝒐𝒎𝒂𝒏 𝒓𝒆𝒕𝒖𝒓𝒏𝒊𝒏𝒈 𝒕𝒐 𝒉𝒆𝒓 𝒔𝒎𝒂𝒍𝒍-𝒕𝒐𝒘𝒏 𝒓𝒐𝒐𝒕𝒔. 𝑵𝒆𝒊𝒕𝒉𝒆𝒓 𝒘𝒂𝒔 𝒑𝒓𝒆𝒑𝒂𝒓𝒆𝒅 𝒇𝒐𝒓 𝒕𝒉𝒆𝒊𝒓 𝒑𝒂𝒕𝒉𝒔 𝒕𝒐 𝒄𝒐𝒍𝒍𝒊𝒅𝒆…
𝗜 𝘀𝗵𝗼𝘂𝗹𝗱 𝗵𝗮𝘃𝗲 𝗸𝗻𝗼𝘄𝗻 𝗜 𝘄𝗮𝘀 𝗶𝗻 𝘁𝗿𝗼𝘂𝗯𝗹𝗲 𝘄𝗵𝗲𝗻 𝗜 𝗯𝗮𝗰𝗸𝗲𝗱 𝗺𝘆 𝗼𝗹𝗱, 𝗯𝗲𝗮𝘁-𝘂𝗽 𝘁𝗿𝘂𝗰𝗸 𝗶𝗻𝘁𝗼 𝘁𝗵𝗲 𝘀𝗵𝗶𝗻𝘆 𝗥𝗮𝗻𝗴𝗲 𝗥𝗼𝘃𝗲𝗿.
The driver looked like a gorgeous fallen angel – one who'd been booted right out of paradise for being a giant prick.
Good thing I'll never have to see him again.
Except when I show up for my new job to teach a little girl how to ride her horse, I find the same icy blue eyes glaring back at me.
𝗣𝗮𝗶𝘀𝗹𝗲𝘆 𝗗𝗮𝗲 𝗶𝘀 𝗰𝗼𝗺𝗽𝗹𝗲𝘁𝗲𝗹𝘆 𝗿𝗲𝗰𝗸𝗹𝗲𝘀𝘀. 𝗦𝗵𝗲'𝘀 𝗮𝗹𝘀𝗼 𝘁𝗵𝗲 𝗯𝗲𝘀𝘁 𝘁𝗿𝗮𝗶𝗻𝗲𝗿 𝗶𝗻 𝘁𝗵𝗶𝘀 𝘀𝗺𝗮𝗹𝗹 𝘁𝗼𝘄𝗻. 𝗔𝗻𝗱 𝗘𝘃𝗲𝗹𝘆𝗻 𝗴𝗲𝘁𝘀 𝘁𝗵𝗲 𝗯𝗲𝘀𝘁.
Protecting the little girl is my one focus.
Only the sassy trainer in her cut-offs and cowgirl boots quickly gets under my skin. Distractions are dangerous, but she soon becomes everything I crave.
𝗢𝗻𝗲 𝗿𝗲𝗰𝗸𝗹𝗲𝘀𝘀 𝗻𝗶𝗴𝗵𝘁 𝗼𝗳 𝗴𝗶𝘃𝗶𝗻𝗴 𝗶𝗻, 𝗮𝗻𝗱 𝗖𝗮𝗹𝗲𝗯 𝗮𝗻𝗱 𝗜 𝘀𝗽𝗶𝗿𝗮𝗹 𝗶𝗻𝘁𝗼 𝗮 𝘄𝗲𝗯 𝗼𝗳 𝗽𝗮𝘀𝘀𝗶𝗼𝗻.
But when I begin to unravel the secrets hiding in this place, I find there is more riding on this job than I thought.
Caleb and Evelyn are worth any sacrifice – only Caleb has to decide what he will sacrifice for me…
EXCERPT
Too bad I felt like I'd been completely complicated by him. Spun up in a way I wasn't sure I'd ever before been.
"Time to head back." I shifted course to head in the direction of the barn.
My stomach sank at the thought of leaving soon. He was probably climbing into his Range Rover at this very moment and starting the hour drive it would take him to get the rest of the way home.
Nerves scattered, pinpricks against my heated flesh.
I was both excited to see him and dreading it at the same time.
I needed to boot the reaction. I couldn't go around feeling like this.
He'd already made it clear he didn't have time to strike up something with me, and I didn't even want that, did I?