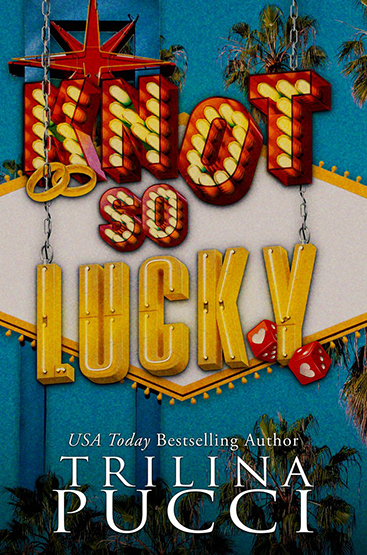 Knot so Lucky
by Trilina Pucci
Series:
The Holidates Series #2
July 3, 2023
Amazon

Me: Ask me what happens in Vegas…
Samantha: What happens in Vegas?
Me: Let me tell you.
What happens is that you get "make out with strangers and pee in a parking lot" drunk.
TIE THE KNOT WITH A GUY YOU JUST MET.
Then *allegedly* participate in depraved group activities with him and his friends in the honeymoon suite of a five-star hotel.
But that's not even the worst part.
Because after an epic walk of shame, you find out he's some insanely famous bad-boy quarterback who's in the midst of cleaning up his act.
So now, you have to pretend to like him… sober…until you can skip town with an annulment and a shirt that reads, "I'd hit that."
Except for bam—tiny hiccup, his personality cancels out his hot AF face.
And let's not mention how you definitely took a trip to pound town with his friends.
So, yeah. That's what happens in Vegas.
You get Knot so Lucky even when you think you hit the jackpot.
EXCERPT
"You're cute." His eyes drop to my lips before lifting again. "You should've stayed this morning. I would've given you a personal wake-up call."
I mean, it's only fair since he basically put my kitty in a coma the night before.
My bottom lip drags from between my teeth before I say, "You still haven't said why you're here."
"We have a date."
"A date?"
He nods, then frowns as he rubs his jaw, adding with a wink, "Yeah, with a judge. I'm thinking I should claim spousal abuse and take you for all you've got. You're so mean to me."
I laugh, playfully shoving his shoulder. He doesn't budge like he's extremely comfortable invading my space, so I lean against the door as I speak, glancing at the way his arms fill out his white T-shirt.
"Well, currently, 'all I got' would be this T-shirt. A pack of Mentos. And that jackpot for $0.32 we hit last night."
His brows raise like he's pretending to be impressed, so I sarcastically throw out, "I know. I know. Try not to be overwhelmed. I really didn't fuck you last night for you to become a gold digger today. I'd appreciate it if you could maintain some dignity."
He laughs. And I do, too, before he moves away, grabbing the door handle and saying, "Come on, you pretty little thing. Go put some pants on so we can go do this divorce. No wife of mine will show her ass in public." He narrows his eyes, still teasing. "But if you're a good girl, I'll take you to lunch after. Anyplace you wanna go. I'll be sixteen cents richer, after all." He shrugs. "I mean…I'm definitely taking you for half."
I smile as we both get out of the car, and I look over the roof. Fuck, he's so tall. I raise my chin higher to make eye contact as I speak.
"I knew this would happen. You're a monster. Fine. But I'm going big with that kind of fortune—McDonald's. And I'm warning you…I'm ordering a Big Mac and a Coke."
He whistles, lifting his hands like what I'm saying is really taxing, making me laugh again before he adds, "And I bet you'll get that drink with light ice too, just like last night. You're a real ball breaker."
Hold on a minute. Did he just remember my order…from when we were plastered?
He glances at me as we walk side by side, and suddenly, I can't stop grinning again. This guy is too much. Between those fucking muscles and that chiseled jaw, along with the memory of the deep-cut v that runs along his stomach all the way down to paradise—I'm completely hot.
But the fact that he casually threw out the one thing no man has ever known has me rethinking this divorce.
I mean…not really, but like, do I have a crush on my future ex-husband?
Yeah, I think I do, with my whole french-fry-loving heart.
Eww. Why is my pussy being problematic? Vegas is for catching cock, not crushes.