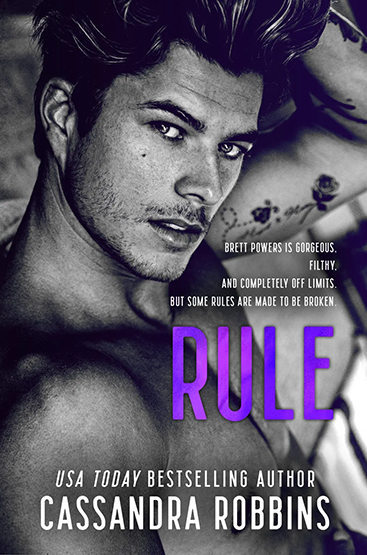 Rule
by Cassandra Robbins
May 25, 2023
Amazon

Brett Powers is gorgeous, filthy, and off limits.
Rules are made to be followed.
Or so they say...
But let's be honest. The second I stepped foot into Brett Powers's classroom, I was doomed.
I mean, it's not every day your dean is a 6'4" dark god with ocean-blue eyes and a dimple.
Just looking at him makes my heart pound and my stomach flutter.
He's intense, filthy, and forbidden.
Not to mention, he's my sister's ex-boyfriend.
If I were smart, I'd walk away.
Lines are getting blurred.
Boundaries are being tested.
And rules are about to be broken.
EXCERPT
I look at my schedule on my phone, then up at the room number. This is it. I swing the door open, glancing at the time on the phone. Twelve minutes late. That's not too bad. I mean, it's the first day and all. Hopefully, class hasn't even started.
"How can our earth, with a projected population of nine billion people by 2050, still let us maintain our desired high quality of life…" The deep growly voice makes me freeze, and my whole body tingles.
Oh dear God. The entire class stares at me along with the owner of that gravelly voice. Sniffing, I straighten my back, quickly move to a long table close to the back, and flop down, my backpack hitting the quiet room with a thud and tipping over.
"Jesus," I hiss, feeling my cheeks heat like I've just come out of the sun and didn't wear protection.
Just start talking, please… Why isn't the professor talking? I look up and hear it before I see it.
"No, no…" I whisper, watching in horror as my Aquafina water bottle slowly rolls across the classroom floor toward that growly voice.
Blinking, I stare at what might be the most beautiful man I've ever seen. This can't be the professor.