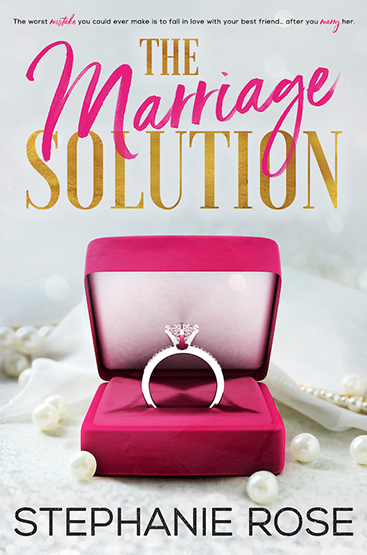 The Marriage Solution
by Stephanie Rose
June 1, 2023
Amazon

Julie
My hot, fiercely protective best friend Landon just dropped to one knee in the middle of the Bellagio with the perfect solution to all my problems.
After an unexpected diagnosis and a run of bad luck, I'm officially down and out. That is, until my best friend of two decades offers me his name… and his health insurance.
We're in Vegas for someone else's wedding. The last thing I ever expected was a proposal of my own—especially from Landon, my rock, my closest friend even when we're miles apart. He's always been gorgeous, but except for that drunken almost-kiss back in college, the only thing between us is friendship.
What's a marriage of convenience between pals? Besides, Landon lives hundreds of miles away. Nothing has to change.
Right?
Landon
I popped the question, put a ring on it, and slapped Julie's name on my health insurance policy. Problem solved.
It's supposed to be a marriage of convenience. However, when my job relocates me to New York and I move in with my wife I find out there's nothing convenient about our arrangement.
It all seemed so simple until the Elvis officiant said, "kiss the bride." The second our lips touched, nothing was ever the same.
TEASER
"Landon, stop. You need to calm—"
He turned around, the heat in his eyes still burning bright under the streetlights, and backed me against the brick wall, draping his hand over my throat right under my jaw before he crashed his mouth into mine.
We'd only shared one kiss, and while it was hot enough for the memory to keep me up some nights, this kiss was not that. This was blistering heat that didn't stop, all the buildup over weeks and probably even years pouring out of us. Tongues tangled and teeth scraped as we pawed at each other, tasting and devouring with no relief for this hunger that we'd been so damn clueless about all this time.
"You're mine," he panted when we broke apart. "You belong to me as much as I belong to you." He grazed his thumb over my swollen lips. "Say it, Jules," he whispered, his hooded eyes searching my face as he sifted his hand into my hair, weaving his fingers around a fistful and pulling until I lifted my head.