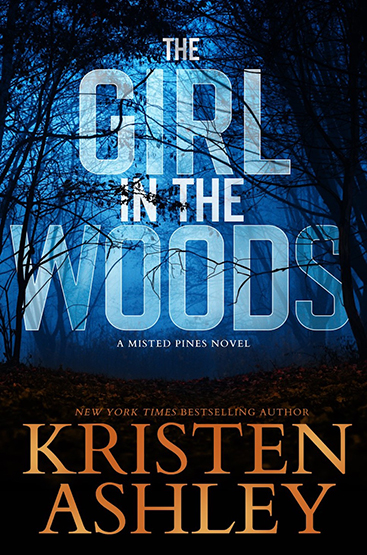 Girl in the Woods
by Kristen Ashley
Series:
Misted Pines #2
March 21, 2023
Amazon
| 
Kobo
| 
iTunes
| 
B&N

This body would be the last for Zachariah Lazarus…
The Crystal Killer's latest casualty was discovered in a sleepy town in the Pacific Northwest, Misted Pines.
His years in the FBI, and tracking the Crystal Killer, have taken their toll on Rus. He lost his marriage to the job. And the burdens he carries for the victims were crushing him.
Misted Pines has recently survived a killer's rampage and a town scandal that made global news. The media was primed to devour a new story. So Rus already has his work cut out for him.
But it's more.
Something is just not right with this latest victim.
As Rus works with the local sheriff to unravel the mystery, the victim's employer, Lucinda Bonner, decides she's going to do everything she can to help.
To help Rus find the killer. To help Rus survive the hunt. To help Rus navigate the intricate, and sometimes sordid, history of the town of Misted Pines.
And to help Rus let go of his burdens.
REVIEW

I highly recommend The Girl in the Woods by Kristen Ashley. This is a gripping mystery with plenty of suspense and twists. The twists keep the reader guessing and make the story all the more exciting. The characters are well developed and the story is masterfully paced. Even though the story is set in a small town filled with secrets, the mystery that Rus has to unravel is complex, unpredictable, and compelling. The romance builds slowly and authentically, and it is full of tension and emotion. The Girl in the Woods is definitely a must-read!