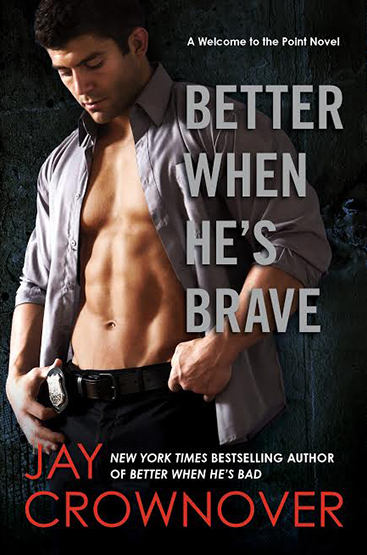 Better When He's Brave
by Jay Crownover
Series:
Welcome to the Point #3
Amazon
| 
Kobo
| 
iTunes
| 
B&N
| 
Audible

In New York Times and USA Today bestselling author Jay Crownover's third novel in her sexy, thrilling Welcome to the Point series, a woman's search for repentance leads her to the one man from her past she can't forget as they join forces to save their city—and the explosive love neither can live without.
Titus King sees the world in black and white. Right and wrong. Which is why as a teenager he left behind the only family he'd ever known to make a better life for himself. Now a police detective in one of the worst cities in the country, he can't deny his life has turned into a million different shades of gray.
The new criminal element in The Point has brought vengeance and destruction right to Titus's front door, and the difference between right and wrong is nothing compared to keeping those he loves alive. To add to his already strained moral compass, the beautiful and mysterious Reeve Black has made her way back to town, and she might be as dangerous to Titus as the guy trying to destroy the Point because he needs her—in more ways than one.
Reeve knows all about how ruthless this new threat to destroy The Point can be… and instead of running away, she wants to help. She has a lot to repent for and saving the city, plus the hot cop that she hasn't been able to forget might just be the only way she can finally find some inner peace.
With an entire city poised on the brink of war, Titus and Reeve stand in the crossfire—and it will take two brave souls to fight for the ultimate love.
EXCERPT
Prove it
.
Those odd, dark blue eyes flashed the challenge at me and I couldn't resist it. Not the challenge or the girl. I didn't like that she got under my skin. I hated that she was right at the center of this mess with Roark, and it really, really grated across my already taut nerves that even with no makeup on and looking like she hadn't slept a wink, she was still the most gorgeous woman I had ever seen. I didn't want to notice that. I didn't want my dick to twitch when she touched me, but it did, which was going to make pretending to be infatuated with her easy and so much harder at the same time. She knew it too.
Prove it.
Okay. I would prove the shit out of the fact that I could do what I had to do in order to make this scheme of mine work. I could pretend to like her, which really was the only thing that would be fake. I couldn't reconcile the way my pulse leaped every time she turned that midnight-blue gaze on me with the fact that she had orchestrated a man's murder. She was beautiful but she was also deadly. She was just as hard as this place we came from, and I'd had enough of the city hammering against my foundation, as it was. Lusting after a woman who had it in her to be just as cold, and just as calculating, as any other criminal I locked up on a day-to-day basis was nowhere for my head to be while I was on the brink of war with her deranged ex-lover.
I was pissed off when I bent my head toward her. I was mad at myself. I was mad at her. More than all of that, though, I was furious that either one of us had to be in this situation in the first place. Every time I turned around, another bad thing or bad person was nipping at my heels. It was getting harder and harder to stay a step ahead. Eventually I was going to trip up and go down and there would no one left with any kind of conscience in this place, no one left that cared about justice and righteousness.
That anger had my hands shaking as I reached up and used my thumbs to tilt her head back so her mouth was pointed up at me. I didn't have much time to date, didn't have the patience for a woman who didn't understand that I was trying to save an entire city from itself and that this took up most of my attention and energy. The ones I did date were never just the right height, just the right size, and they sure as hell never looked as perfect and as tempting as this woman did. None of them had ever fit me the way she did and that pissed me off even more.