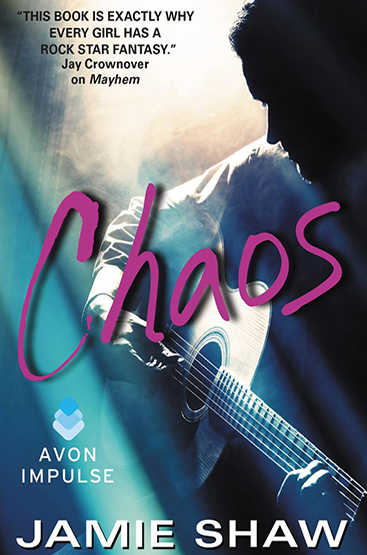 Chaos
by Jamie Shaw
Series:
Mayhem #3
Amazon
| 
iTunes
| 
B&N
| 
Audible
From the moment she saw Shawn Scarlett perform at a school talent show, Kit Larson has loved two things: the guitar, and the gorgeous, green-eyed boy who inspired her to play. But one careless night in high school shatters her hope of ever being more than a notch on his bedpost.
Six years, two bands, and one mostly-mended heart later, Kit's about to make her rock star dreams a reality as the new guitarist for Shawn's band, The Last Ones to Know. He may not remember their reckless night together, but Kit has never forgotten… and she's determined to make him eat his heart out.
The release of their new album means a month cooped up on a tour bus, sleeping inches away from the ridiculously sexy musician she's never quite gotten over. And as Kit gets to know the real Shawn—not Shawn Scarlett, the rock god, the player—their attraction becomes too hot to resist. But the past is paved with secrets, and when they finally surface, Kit could lose everything: the band, the music, her dreams… and Shawn.
GUEST POST
Why I Write Rock Star Romance
I write rock star romance for the same reasons readers read it: because, let's face it, rock stars are hot as hell, and deep down, we all want to be that one special girl who captures the bad boy who could have it all. Rock stars have fame, money, legions of adoring fans. They have girls throwing themselves at their feet. They're the kings of one-night stands. They're the guys who refuse to get tied down—not by nine-to-five jobs, and certainly not by just any girl. They're untamable, and if they love you—really love you—they're going to love you forever. Being with a rock star means hearing a song on the radio and knowing it was written for you. It means standing in a sea of girls and having his eyes on you, because you are the one he's singing to. It means going on tour, seeing the world, and then, at night, getting to curl up with a guy who is passionate, creative, and devoted. Rock stars aren't just any guys, and they don't fall for just any girl. I write their stories because it gives me, and my readers, a chance to be that lucky girl.
JAMIE SHAW
EXCERPT
When Adam's hand lifts, I reluctantly stop playing.
"Do you write your own stuff?" he asks before my heart can sink too far. When I nod, he asks me to play something, and I play one of the new untitled songs I've been working on just because it's the freshest on my fingers.
Again, I don't get far into it before he stops me.
I wait for him to tell me I suck and order me to leave, but then the guys share a few words and all stand in unison, their chairs screeching against the floor as they get slid back. When Shawn, Adam, Joel, and Mike walk toward the stage, my heart beats hard, climbing inch by inch into my throat. I try to play it cool as Mike sits at the drums, as Joel and Shawn collect their guitars and hook them up, as Adam takes his place at the mic.
Adam names one of their songs and asks me if I know it, and I nod in a daze. My chin is still moving when Adam's thumb goes up and Mike's drumsticks tap together. Three taps, and then I'm swept up in a performance with The Last Ones to freaking Know.
We play bits and pieces of a few songs, and I'm feeling really, really good about my audition, when Adam gives me a big smile and says, "Okay. I think that's good. Have we heard enough?"
He glances at Mike and Joel, who are both smiling equally wide and nodding, and then he looks at Shawn, who nods too, with no light in his eyes whatsoever. No smile, either—not a small one, not a forced one, just nothing. He doesn't even try.
"Yeah," Shawn says, turning that unfazed expression on me. "Thanks for coming. We'll give you a call."
I stare at him blankly, not giving myself permission to speak, or think, or feel—not with him standing in front of me, staring at me like I'm nothing. I politely thank the guys, and then I gather my things.
I leave knowing I'll never hear from them again.
Because I know what it means when Shawn Scarlett says he's going to give you a call.