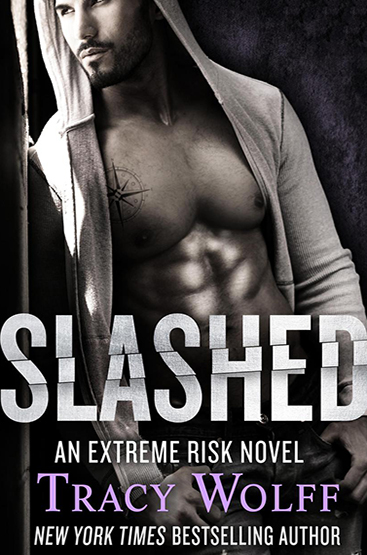 Slashed
by Tracy Wolff
Series:
Extreme Risk #3
Amazon
| 
Kobo
| 
iTunes
| 
B&N

Do nice guys always finish last? In the new Extreme Risk novel from New York Times and USA Today bestselling author Tracy Wolff, a burnt-out underdog and a vulnerable tomboy defy the pressure to be perfect and go after what they really want.
Bighearted and easygoing, Luc Jennings is falling behind in a family of serious overachievers. While he may be decent enough at snowboarding to turn pro and rack up some sponsors, he's never topped any podiums—unlike his friends Z, Ash, and Cam. Luc's always been head over heels for Cam Bradley, but she's never seen him as anything more than a friend. Now, after years of coming in second, Luc can't take it anymore—especially if it means watching Cam chase another guy.
Cam hangs out almost exclusively with dudes, and that's fine by her. She'd much rather be shredding at the Olympics than primping in the mirror. Cam's wildest dreams have a way of coming true—except when it comes to getting her longtime crush and best friend, Z Michaels, to notice her. Then her mother suddenly shows up after being gone for, like, ever, and Cam's whole world comes crashing down. Desperate for a place to lay low, she turns to the one person who's always had her back.
Try as he might to move on, Luc could never leave Cam hanging. He lets her crash at his place—and it isn't long before she winds up in his bed. With Cam running scared and her icy facade starting to melt at last, Luc's determined to finally win the only prize that matters.
REVIEW
Can I just tell you that Tracy Wolff never disappoints?! Every book by Tracy Wolff sucks me in and doesn't let me go until the last word. I can't get enough when it comes to her books! The Extreme Risk series was no different!
We started off with Z then we got to have Ash, and now we get to fall in love with Luc and Cam. I couldn't get enough of the snowboarders! Each one of their stories gave all the feels and pulled at all the heartstrings! First falling in love with Z as he battled with depression and anxiety by taking huge risks out on his snowboard. Then watching Ash as cam to grips with finding himself after losing everything he'd ever known. And now getting to experience Luc and Cam story of them trying to battle all of their insecurities while falling in love with each other.
I loved every second of reading every page! I'm not sure if Luc and Cam have wrapped of the series, but if they did – it certainly was the way to go out! I enjoyed finally getting to see them find their way to each other.
EXCERPT
Fuck, she looks good. And fuck, it's hard to keep my eyes off of her.
Like the other girls, Cam's dressed in a bikini. But unlike Ophelia and Tansy, hers isn't two little scraps of cloth held together with strings. No, in typical Cam fashion, she's wearing a simple black suit that's much more about athletic function than hotness factor. And still she looks fucking fantastic in it. All long, lean lines and tanned, gorgeous skin, with legs that go on forever—legs that seem specifically designed to drape themselves over a guy's shoulders as he thrusts into her again and again and again.
Not that I care. Not anymore. I may have been in love with her once upon a time, but after the disastrous one night we spent together, I am totally over it.
Completely.
Absolutely.
Or at least that's what I tell myself once a day. More if I'm actually around her for any length of time.
Fake it till you make it. That's the motto I'm living by these days.
"Dude, where the hell did that come from?" Ash demands as he sits down on the edge of the boat and fastens himself into his wakeboard.
I shrug. The last thing I want to say is the truth, which is I'm sick to fucking death of always coming in last. I'm a good athlete, a really good athlete, and in any other group, that would probably count for something. With my three best friends—all of whom top snowboarding podiums on a regular basis—not so much.
It's not that I'm jealous of them, because I'm not. They've each had some really bad, really heavy shit to deal with through the years and I figure their mad skills are kind of the universe's way of evening up the scales. Still, it'd be nice to not always feel like the loser. Like the ballast they cart around, not because I contribute anything to the team but out of loyalty.
"That was totally wicked," Ophelia tells me as I move to the front of the boat. "I've never seen anything like that before."
"Thanks." I shoot her a smile, even knowing she's just trying to make me feel better.
"Uh, sure you have," Z tells her even as he grins at me. "I do believe you've seen me work a half-pipe before."
She rolls her eyes. "Of course, baby. And you have a bigger penis, too."
"Hey, now!" I squawk in mock affront. "That seems a little judgmental considering you haven't seen the goods."
"You want to fix that?" she asks, eyebrows raised. But she's been Z's girl long enough for me to know she's all bravado.
I reach for the waist of my board shorts. "Sure—"
"No!" Z stands up abruptly, grabbing onto Ophelia as he does. "No, she doesn't." He's picking her up in his arms and striding over to the side of the boat while I slip into the vacated driver's spot.
"You want to take a go?" I shout to him, but instead of answering he just steps onto the bench seat at the back of the boat.
"Don't you dare," Ophelia shrieks. "I mean it, Z! You better no—" Her shriek is abruptly cut off when he jumps in the water, still carrying her.
I glance at Ash, who's just shaking his head like when's she going to learn? I know exactly what he means. Z pretty much dares everything and telling him not to do something is a surefire way to get him to do just that.
Logan and Cam are close to hysterical they're laughing so hard, and when I glance in the water at Ophelia—who's still so shocked that her mouth is opening and closing like a guppy's—I can't blame them. Especially when she finally seems to come around and starts smacking at Z, who's laughing just as hard as the other two.
Tansy keeps glancing back and forth between the lot of them like they've all escaped from an insane asylum. But when Ophelia finally stops beating up on Z, Tansy leans over the side of the boat and calls, "Here. I'll help you up."
Ash heads toward her—to help, I'm sure. Tansy isn't close to being as fragile as she was when we first met her a couple months ago and she was fresh off of chemo, but Ash still has a tendency to treat her like glass. But before he can get there, Ophelia grabs her hand and yanks.
Tansy's only protest is an astonished little squeak, and then she's tumbling headfirst into the lake. Ash makes a dive for her, misses, and falls in after her.
By now Cam and Logan are laughing so hard they're practically crying, and I'm not far behind. Especially when Ophelia leaps on Z's back and starts trying to drown him.
It's second nature for me to look at Cam, to try to catch her eye and share the joke. At least until I remember that we don't do that anymore. We don't do anything anymore. So, I look at Logan instead, and that's when I see it. The wistfulness. The envy. He won't say it—the kid never says it—but I know he misses being able to jump out of the boat without a second thought. Misses being able to just do what he wants instead of having to plan every little thing out beforehand. After running it by Ash, who we've already established has major protective issues when it comes to the people he loves.
The boat is stopped, but I turn the ignition all the way off before I climb out of the pilot's seat and head toward him. I pick him up easily—he may be long but he's also super lanky—throw him over my shoulder. "Hold your breath," I warn, then jump off the back of the boat without waiting to see if he follows directions. It's exactly what I would have done a year ago, before the accident, and though there's a tiny part of me that questions if it's really okay, I tamp it down. Except for the paralysis, he's all healed up. In as good a shape as any other fourteen-year-old boy. So to hell with it. He deserves to have fun, too.
I hold onto him until we surface, making sure he can tread water using just his arms—which he does just fine despite the fact that he's still laughing. Only then do I glance at Ash, expecting him to bitch me out. Which is fine. I know how he is and I'm prepared for it. Except when our eyes meet, his are filled with something that looks an awful lot like—shame.
I shoot him a questioning look, but he just shakes his head. Mouths "thank you," then moves over to dunk his brother a second time.
Cam joins us after a couple minutes, and even though I know it's totally masochistic, I can't stop myself from swimming up behind her. From putting my hands on the silky skin of her waist.
"Hey, don't—" she says with a laugh, twisting around to see which one of us is going to dunk her.
But dunking her is the last thing on my mind—even if I did start out with that as a vague plan—and when her surprised eyes meet mine, I don't push down until she's underwater. I don't pull away, though, either. Instead I stay right where I am, hands lightly resting above her hips, thumbs gently stroking at the hard, flat plane of her abs.
Her green eyes are huge as she watches me watching her, and then she smiles a little tremulously. "Hi." It's almost a whisper.
"Hi," I say back. It's the first word I've said to her in weeks that hasn't at least been partially for show.