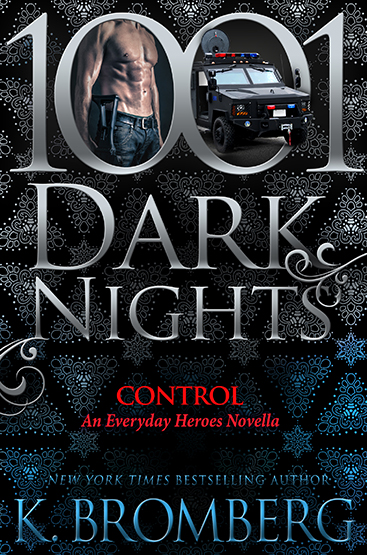 Control
by K. Bromberg
Series:
Everyday Heroes #3.5
November 13, 2018
Amazon

From New York Times and USA Today bestselling author K. Bromberg comes a new story in her Everyday Heroes series…
Control is something Desi Whitman abhors. Why live life in black and white perfection when you can messily color outside the lines?
But when she comes face to face with SWAT officer Reznor Mayne, he's about to show her just how good control can feel.
EXCERPT
"Remind me not to like him."
"Like who?" she asks.
Gotta keep her on her toes.
"Logan St. Assh*le," I say. "Guys who have cats—correction, guys who name their cat Pussy—either aren't getting any or are using the name as a way to state they're not gay when everyone already knows they are."
"Is that so?"
"Yep. Why be ashamed of who you are and hide behind a cat? Just live the best life."
There's something I say that has her head tilting to the side again. She takes me in a little longer than expected. "It's the former," she finally admits.
I shrug. "Why is he an assh*le?"
"The bigger question is how is he not an assh*le?" For the briefest of moments I see a ghost of a smile on her lips, and it reminds me of how pretty she was the other day before the defense class began when she was chatting me up.
"Doggy Style?" I ask.
"That's the name."
"But Pussy is a cat."
"You're quite observant…"
"I can imagine you attract all kinds of interesting folks with that name," I say, dismissing her sarcasm.
For the briefest of moments something flickers through her eyes and before I can put a finger on it, the emotion is gone, but it reminds me of what I saw in them the other day after class.
"Just as I'm sure you do working with SWAT."
"Always." I look at the cute cottage-style house. "You lived here long?"
We stare at each other in silence, and it's almost as if she remembers she isn't supposed to like me. Her expression and posture suddenly stiffen…probably because she realized she was smiling at me.
And f*ck if I know why it turns me on.
"It's none of your business."
So that's how she wants to play it? Fine.
"Then it's also none of my business that Pussy ran into the house about two minutes ago." She narrows her eyes and sneers at me again. "It's your loss, Desi."
"What is?"
"That you don't trust me to show you just how good I am with something wet and groomed." And with that parting comment, I flash her a lightning-quick grin before heading to my side of the fence, while she grumbles and curses me out under her breath.
I hear her door slam.
I hear her call for Pussy again.
And all I can think about is how damn unexpected she is—and at the same time such a very welcome distraction.
I think I'm going to like my time in Sunnyville.