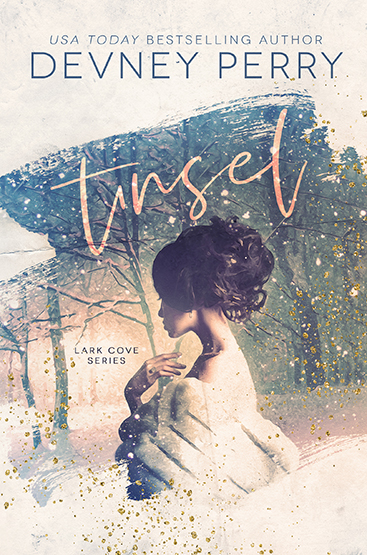 Tinsel
by Devney Perry
Series:
Lark Cove #4
February 19, 2019
Amazon
| 
Kobo
| 
iTunes
| 
B&N

Sofia Kendrick has always cherished her tiara. As the youngest daughter of a wealthy New York family, she's lived the life of an American princess. But after two scandalous divorces and a breakup smear her name across the society rags, the shine from her crown has dulled. People call her superficial, even gaudy.
She's nothing more than tinsel.
Desperate for escape and starving for peace, Sofia heads to Montana for a holiday weekend with her brother. But she doesn't get the relaxing vacation she planned. Instead, she's put to work in a bar alongside Dakota Magee—a man who does not want her help. A man who is set on teaching her a few lessons about real life and hard work. But Sofia has a couple of life lessons of her own to teach. Like how to fall in love.
I received this book for free from in exchange for an honest review. This does not affect my opinion of the book or the content of my review.
REVIEW
Devney Perry delivered another amazing, heart-warming, and beautiful story with
Tinsel
.
It's not often a contemporary romance gives me a complete and utter book hangover! It's usually the dark romances that keep me thinking for days to come. But let me tell you – Devney Perry pulled out all of the emotions and feels with Tinsel and I know it's going to be a book that stays with me for a long time to come. I don't even know how I'm going to pick up another book right now! (I mean, I will, because I have a long list of book to read.. but… gaaahhh!)
Sofia (our heroine) runs off to hide in Montana and do a little soul searching. Dakota (our hero) is a local Native American that works for her sister-in-law at the only bar in town. When Sofia is 'voluntold' to help Dakota at the bar while her brother and sister-in-law go on vacation, sparks immediately fly between the two as they agree to a 10 day affair.
Obviously, they both end up wanting for more from the other one. But how will it ever work between the two of them long term?
Sofia and Dakota literally took me on the most intense roller coaster of emotions! Fair warning: be prepared that these characters will rip your heart completely out of your chest SEVERAL TIMES and then they will SLOWLY AND PAINFULLY put it back together. ALL THE WAY UP TO END!
I absolutely adore Devney Perry's storytelling and can never get enough, but I have to say that Tinsel is probably my favorite book out of the Lark Cover Series. I loved all the other books, but for some reason Sofia and Dakota just stole a little more of my heart than the others.
I would HIGHLY suggest reading the previous books in the series as it will give you more insight to the story and the secondary characters in Tinsel.
GIVEAWAY